Greater Brighton is an attractive city that looks good on film.
Greater Brighton has always been a magnet for film production companies from all over the world. The city provides diverse architecture, landscapes and a welcoming, can-do approach from statutory services, businesses and residents.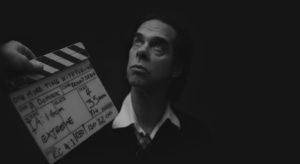 One More Time With Feeling (2016)
One More Time With Feeling, from director Andrew Dominik, is a stark, fragile and raw documentary. Shot in 3D, colour and black & white, the film probes the deeply personal circumstances surrounding the making of Skeleton Tree, Nick Cave & The Bad Seeds' 16th studio album, and features live performances by the band in the studio.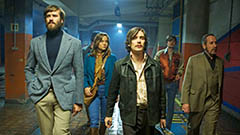 Free Fire (2016)
Ben Wheatley and his Brighton team came back to film Free Fire in their home town. Set in Boston in 1978, a meeting in a deserted warehouse between two gangs turns into a shootout and a game of survival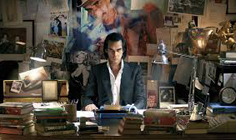 20,000 Days on Earth (2014)
This critically acclaimed documentary charts 24 hours in the (fictional) life of Australian- born, Brighton- based troubadour Nick Cave. Laced with the joy and darkness of his music and writing, the film finds Cave interacting with famous faces from his past such as his one-time contributor Kylie Minogue, and actor Ray Winstone. Shot entirely in Brighton, the film is as much of a love letter to the seaside city as it is to the man that inhabits it.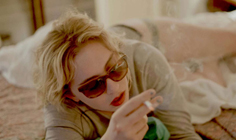 Cherry Pie (2014)
Cherry Pie is the first feature by Swiss director Lorenz Merz. In a recent interview, he describes arriving in the city armed with just an actor, a camera and a 10-page screenplay. Inspired by the locations he found, his script gradually evolved into a full-length drama. The story focuses on a damaged outsider trying to escape her emotional demons.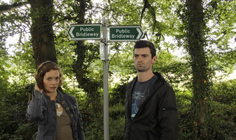 My Accomplice (2014)
An off-beat comedy about falling in love, set in Brighton and featuring a gallery of the city's eccentrics, plus songs and live performances from local bands Transformer, Bob Wants His Head Back and The Mountain Firework Company.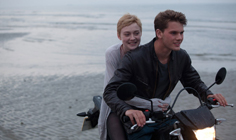 Now is Good (2012)
Now is Good follows teenager Tessa, (Dakota Fanning), who has been diagnosed with terminal cancer. With help from her friend Zoey (Skins star Kaya Scodelario), she makes a list of everything she wants to do before she dies, finds love, and tries to help her parents (Paddy Considine and Olivia Williams) come to terms with her death.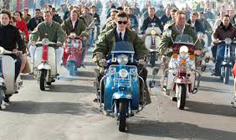 Brighton Rock (2010)
Based on Graham Greene's novel, (which also spawned the earlier classic adaptation starring Richard Attenborough), this drama charts the events following the murder of a notorious gang leader by Pinkie Brown (Sam Riley). Brown seduces the only witness to this crime, the innocent Rose, (Andrea Riseborough) but her employer, Ida, (Helen Mirren) is determined to uncover the truth.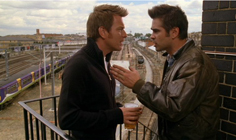 Cassandra's Dream (2008)
The tale of two brothers, (Colin Farrell and Ewan McGregor) with serious financial woes. When a third party proposes they turn to crime, things go from bad to worse and the two become enemies. The stellar cast also includes Hayley Atwell, Sally Hawkins and Tom Wilkinson.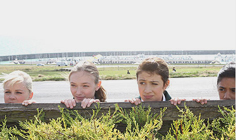 Angus, Thongs and Perfect Snogging (2007)
A coming-of-age comedy co-written and directed by Gurinder Chadha whose credits also include Bend It Like Beckham. Adapted from the popular teen novels by Brighton author Louise Rennison, the story centres on a 14-year-old girl who keeps a diary about the ups and downs of being a teenager.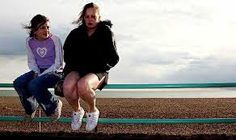 London to Brighton (2006)
This award-winning British gangland thriller follows a woman and child as they escape from London to Brighton while under threat from those who pursue them. This debut feature was critically acclaimed for its hard-hitting depiction of gangland vice mixed with social realism.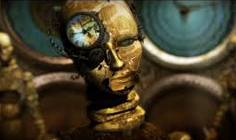 MirrorMask (2006)
Written by acclaimed novelist Neil Gaiman from a story developed with director Dave McKean (The Gospel of Us) and featuring Rob Brydon, and Gina McKee among the cast. The film's story revolves around a young girl from a family of circus performers who finds herself trapped in a fantasy world.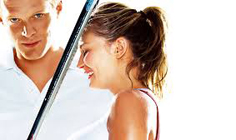 Wimbledon (2004)
In this romantic comedy, a pro tennis player (Paul Bettany) has lost his ambition and has fallen in rank to 119. He meets a young player on the women's circuit, (Kirsten Dunst),who helps him recapture his focus for the Wimbledon championships. Apparently inspired by Wimbledon champion Goran Ivanišević who became the only player to win the Men's Singles title with a wild card entry.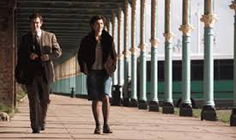 Ashes and Sand (2003)
Adapted from the award-winning stage play by Sussex writer Judy Upton, Ashes and Sand shows something not often seen in British cinema – a girl gang. Hayley is head of a tough-talking, violent gang in Brighton, catching the attention of local police with far-reaching consequences.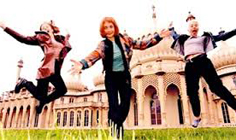 Summer Rain (2002)
This romantic comedy follows a group of three girls after one of them breaks off a long-term relationship, leaving the other two to question the direction that their lives are taking. Jonathan Glendening directed this low budget debut feature, shot in his home town with a Brighton cast and crew, and featuring local musicians on the soundtrack.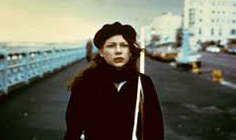 Me Without You (2001)
Me Without You has a distinctly American feel, despite being set in the UK, partly due to the presence of actors Michelle Williams and Kyle MacLachlan. Like Summer Rain, it is a film about female friendship, following the relationship between Holly and Marina – played by Williams and Anna Friel – from childhood to stunted adulthood.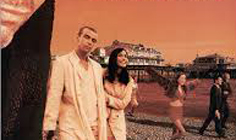 Circus (2000)
A crime thriller starring an array of well-known names, from British stalwarts such as John Hannah, Eddie Izzard and Christopher Biggins, to X-Men star Famke Janssen. The screenplay is by Hove writer David Logan. Circus features a couple of con artists, played by Izzard and Janssen, whose attempts to go straight become increasingly complicated.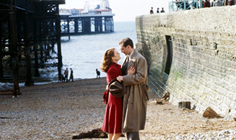 The End of the Affair (1999)
Based on a novel by Graham Greene which examines the obsessive relationships between three central characters. Starring Julianne Moore and Ralph Fiennes, and written and directed by Neil Jordan, the film garnered a number of award nominations for the cast and crew. Jordan won a BAFTA for Best Adapted Screenplay.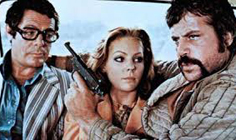 Dirty Weekend (1993)
Dirty Weekend offers a British spin on the female revenge story, directed by Michael Winner (Death Wish), clearly no stranger to the vigilante genre. The film follows Bella who embarks on a killing spree after being plagued by a stalker. The film received a poor critical reception and was banned from video release for several years, due to its violent and sexual content.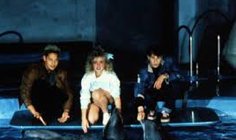 The Fruit Machine (1988)
A thriller/coming of age movie about two gay teens who escape from Liverpool to Brighton after witnessing a brutal murder. Written by Frank Clarke (his follow-up to early 80s hit Letter to Breshnev), directed by BAFTA-winner Philip Saville, with Robbie Coltrane and Robert Stephens among the cast. The film also features an early score from composer Hans Zimmer whose later work has included The Thin Red Line, Inception, 12 Years A Slave and Interstellar.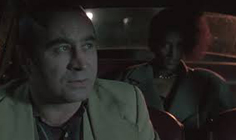 Mona Lisa (1986)
The relationship between a call girl (Cathy Tyson) and the ex-con who becomes her driver (Bob Hoskins) is at the heart of this atmospheric thriller. The film led to a Cannes Best Actor award for Bob Hoskins, plus numerous other award nominations for the cast and crew.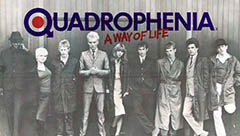 Quadrophenia (1979)
Loosely based on the rock opera of the same name by The Who, the film stars Phil Daniels as Jimmy, a 1960s Mod who loathes his dead-end job and home life. At the heart of the film are the scenes in Brighton – the bank holiday weekend and its aftermath. The film has a cult following and an enduring connection with Mod culture and the city.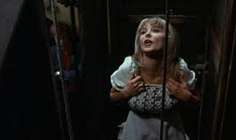 The Flesh and Blood Show (1972)
Brighton-born horror and sexploitation director Walker delivers a film centred around an anonymous producer who assembles a group of actors to take part in a play, only for them to be killed off one by one. The film takes the gothic darkness of the Hammer films and adds a grimy contemporary sensibility.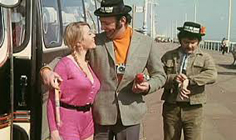 Carry On At your Convenience (1971)
The tale of industrial strife at WC Boggs' toilet factory, culminating in the annual works outing to Brighton. The 22nd Carry On Film to be made, but the first box office failure of the series. This was attributed to the film's portrayal of the union activists as buffoons, thus alienating its core audience.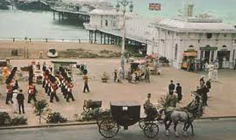 Oh! What a Lovely War (1969)
A highly acclaimed film about the First World War based on the stage musical of the same name. Elaborate sequences were shot in East Sussex and many of the extras were locals, plus students from the University of Sussex. Locations include the West Pier, Sheepcote Valley (the trench sequences) and Ovingdean (where hundreds of crosses were erected for the classic finale).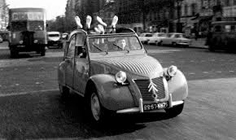 Jigsaw (1962)
Described by The Guardian as "one of the finest postwar British crime movies and possibly the best depiction of the seaside town on film", Jigsaw follows two detectives as they attempt to solve the murder of a woman whose body is found in a Brighton beach hut. A notable departure for prolific director Val Guest, whose credits also include Expresso Bongo and The Day the Earth Caught Fire.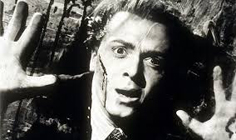 Brighton Rock (1947)
Pinkie Brown is a small-town hoodlum whose gang runs a protection racket based at Brighton race course. The murder of a rival sparks off a spiral of events involving two women – Rose, a naïve waitress who becomes captivated by Brown, as well as Ida, the woman investigating the death. Starring Richard Attenborough, and shot entirely in Brighton and the surrounding area, the film remains a classic piece of British cinema.