It's not in one location. And it only appears once a month, Worthing film club has become the arthouse cinema Worthing was missing.
I entered the Coast Café and paid my £4 as a non-member (free for members) then went to the bar for a beer. This was the venue for tonight's film. The venue is a large café/bar right on the beach. It has a rustic and modern feel at the same time with a relaxed vibe. A row of cinema seats on wheels is set up in front of the bar, facing the projector screen. Chairs with cushions set up around too.
The film 'The Look of silence' has a less inviting atmosphere. Joshua Oppenheimer's second documentary film is about the mass murders in 1960s Indonesia. Here following Adi, as he interviews those responsible for his brother's torture and death during this time. It's a film that leaves you emotionally winded for some time. But when I got my breath back I spoke to Stephen, the film club's creator and now acting as bar man.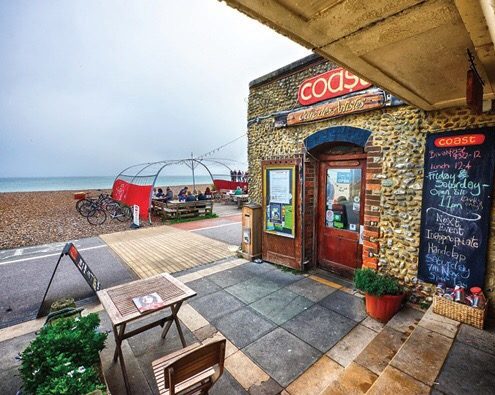 I asked Stefan why he set up the film club. He told me that when he moved to Worthing, the Dome cinema had recently re-opened after 30 years of neglect, threats of bulldozing and even talks of turning it into a shopping mall.
The Dome cinema is a beautiful and iconic building that has shown films since 1911. At the time of its restoration, many people had been hoping the dome would now become the town's arthouse cinema, knowing main features could still be shown in the towns other local and much loved historical cinema, The Connaught Studio. However the licensing went to a small company that shows mainstream films and this left many people disappointed. Stefan however suggested the creation of a film club that could screen arthouse films, and so it happened and still is happening 10 years later.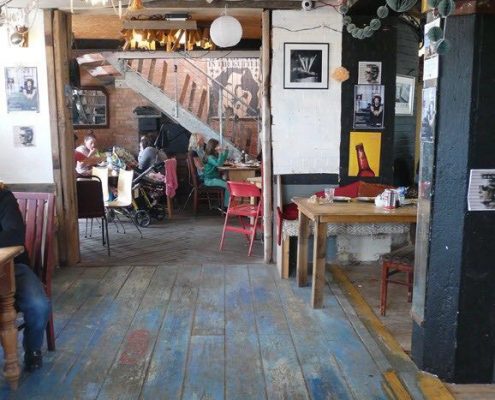 Stefan tells me they show films 'that aren't coming here but should come here and that would have come here if we had an arthouse cinema.' The next film on the 19th of March will be 'Loveless' Andrei Zvyagintsev's dark story of a broken marriage and a missing child. Loveless opened to critical acclaim and it won the Jury Prize at the 2017 Cannes Film Festival. This will be shown at the Connaught studio cinema. April 16th screening will be Medditerraneo, the story of a group of Italian soldier's left abandoned on a Greek Island during WW2. At first the island appears abandoned, but when the locals realize the soldier's are harmless, they descend from their hiding in the mountains and continue with their normal life. Soon the being stranded doesn't seem so bad to the group of soldiers.
James Ryan – Worthing filmmaker
For more information and to keep up to date with what is being shown check out the website.
http://worthingfilmclub.blogspot.co.uk
Or subscribe to the email at worthingfilmclub@gmail.com
https://filmcitybrighton.org/wp-content/uploads/2018/03/Screen-Shot-2018-03-05-at-11.31.43-copy.png
600
1068
Kelly Mikulla
https://filmcitybrighton.org/wp-content/uploads/2018/03/brightonhovefilmcitylogo.png
Kelly Mikulla
2018-03-05 11:40:31
2018-05-10 10:12:52
Worthing's ArtHouse Cinema